15'' Tall Lladro 1469 Carousel Girl Special Edition! Lladro Horse Rider 1985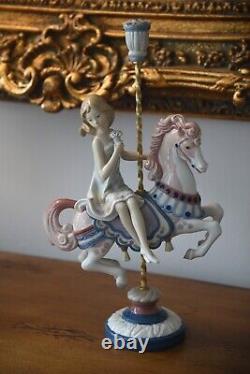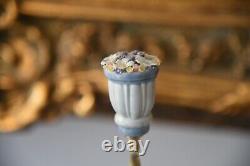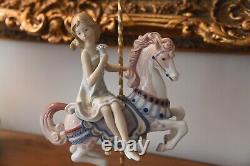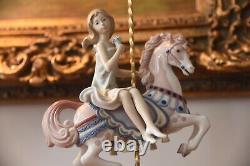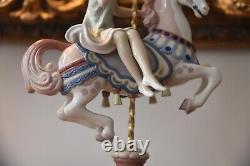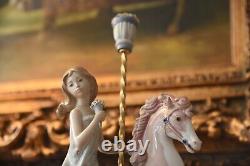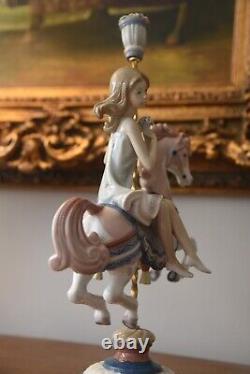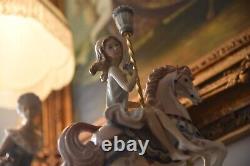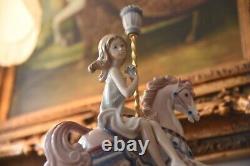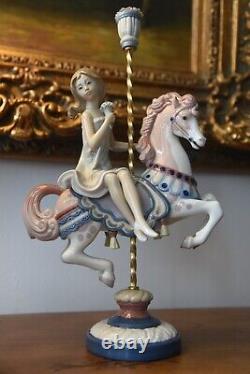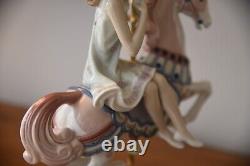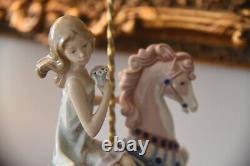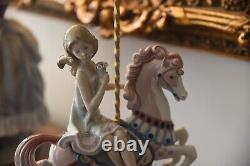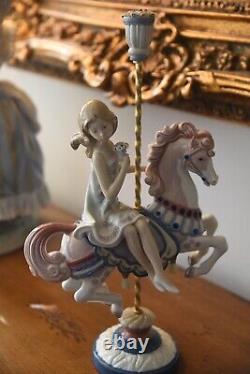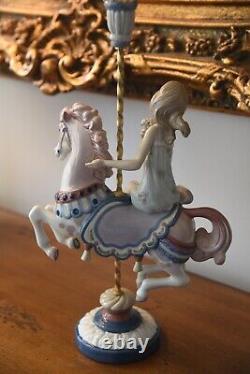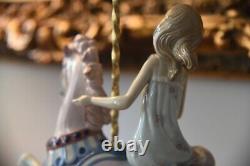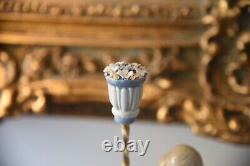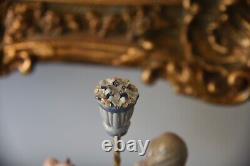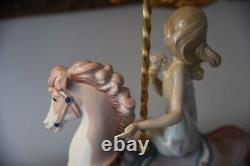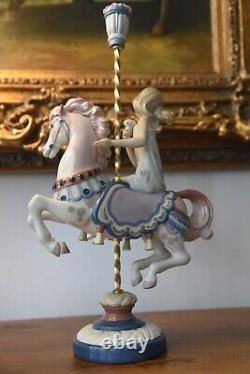 THE MAGIC WORLD OF PORCELAIN. Conceived in ancient China and reinvented by European alchemists in the 18th century, the formula for making porcelain was once the most closely guarded secret in the history of art.
This fine material, so jealously preserved over the ages, serves as the basis for the tradition of beauty cultivated and brought to perfection by Lladro today. The works of the Lladro brothers are considered to be the finest porcelain art in the second half of the 20th century. They possess an unmistakable style that reflects the virtues of fine porcelain fro yesteryear while admirably expressing feelings and themes appreciated by so many people today. Some of Lladro's most significant works are on permanent display in leading museums and art centers around the world.
The'Gonzalez Marti' National Ceramics. Museum in Valencia, Spain, the Fiftieth Anniversary Museum of Brussels, Belgium, the Hermitage in St Petersburg, Russia, and the International Ceramics Museum of Faenza, Italy are a few of the most important names. Lladro has built up a network of proprietary sites around the world, comprising Lladro Centers located in prestigious shopping areas of leading world cities: Valencia, Madrid, London, New York, Beverly Hills, Las Vegas, Singapore, Hong Kong. There have been two specially significant milestones in Lladro's process of internationalization: the opening of the Lladro Center in New York in 1988, and the launch of the Beverly Hills Centers in 1997. The New York site occupies the entire Lladro building on 57th Street in Manhattan.
In addition to a store and the head offices of the Lladro Society in the United States, it houses a museum including a wide variety of creations from the Lladro brothers' early years. In contrast, the Beverly Hills site is a unique 24,748 ft. Building at 408 Rodeo Drive, possibly the most famous and sophisticated shopping area in the world.
This Lladro, the exquisitely crafted rare piece creates an air of tranquility and grace for your life. The Lladro Comes with the Larger Size of Flower Terrace!