Rosenthal Germany Studio Line Bjorn Wiinblad Rocking Horse Coin Bank No Key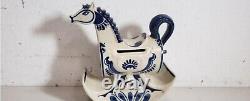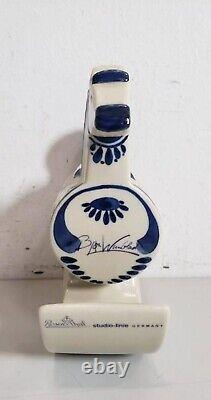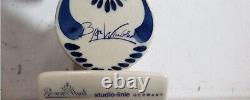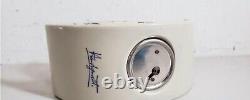 This rare, Rosenthal rocking horse bank is a charming decorative object that also functions as a piggy bank. Designed by the Danish artist Bjorn Wiinblad, this piece is part of the Rosenthal Studio Line, which is known for its high-quality ceramics and innovative designs. The rocking horse bank is made of fine porcelain and features a delicate blue and cream color scheme.
The horse is depicted in a playful and whimsical style, with intricate details such as a flowing mane and tail, a saddle, and stirrups. The horse is mounted on a ceramic base, which allows it to rock back and forth when gently pushed.
Overall, this very rare, Rosenthal blue and white rocking horse bank is a delightful combination of artistry and functionality, making it a unique and practical addition to any collection of ceramics or decorative objects! Item is in fair condition, no visual signs of structural damage.
Item shows light signs of wear and tear.