ART DECO HUTSCHENREUTHER PORZELLAN FIGUR PFERD JAZDA horse porcelain figurine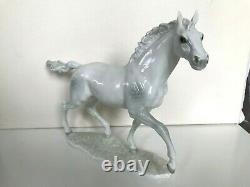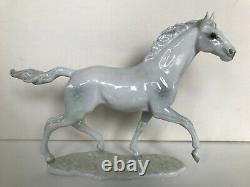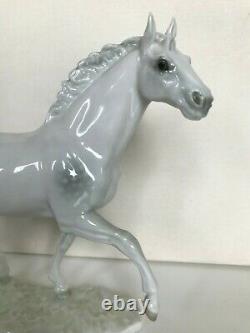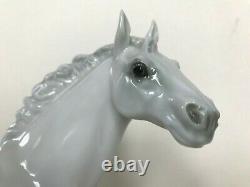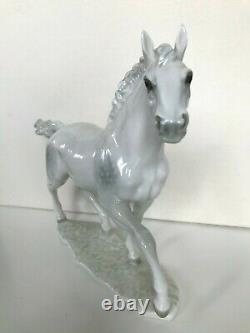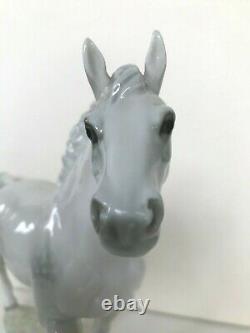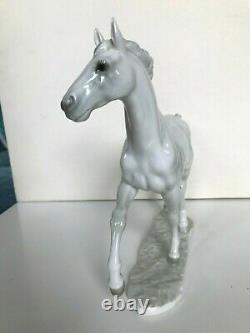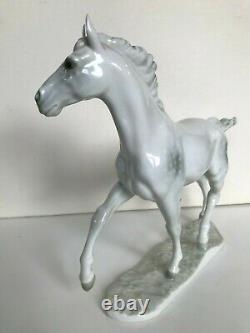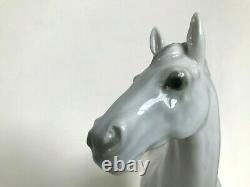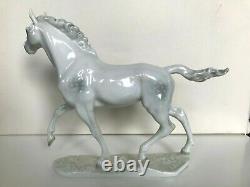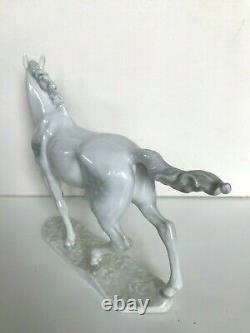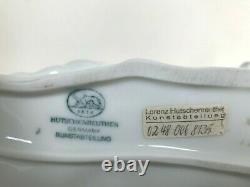 Porzellanfigur, trabendes Vollblut "Jazda", Hutschenreuther, Kunstabteilung Selb, Produktionsjahr ca. Vollplastische, naturalistische Darstellung eines trabenden Schimmels auf Flachsockel.
Grüne Stempelmarke Bodenunterseite mit grüner Stempelmarke "Hutschenreuther Germany Kunstabteilung" (für ein Produktionsjahr um 1970) und auf Sockeloberfläche eingepresst C. Werner, Entwurf Carl Werner um 1950. Sehr schöne ausdrucksstarke Ausformung und Bemalung!
Sehr guter gebrauchter Zustand, keine Beschädigungen, Glasurrisse, nicht repariert oder restauriert - siehe Fotos. In Oberfranken war Hutschenreuther nach Rosenthal das zweite Unternehmen in Selb, das eine eigene Kunstabteilung und damit eine neue Luxussparte eröffnete.
Signum war hier lange, dass man mit der Porzellanfachschule Selb zusammenarbeitete: Unzählige Entwürfe des damaligen Selber Schulleiters und Architekten Fritz Klee wurden realisiert. Folgerichtig übernahm der Institutsleiter Klee, auf den auch die berühmte Firmenmarke des Löwen zurückgeht, zunächst die Hutschenreuther-Kunstabteilung. Doch der Zuwachs des Unternehmenszweiges war derart, dass man 1922 gleich zwei Vollzeitkräfte einstellte. Mit Carl Werner als künstlerischem und technischem Leiter und Karl Tutter - beides Bildhauer und Modelleure - war die Gründungs- und Orientierungsphase der Kunstabteilung beendet. Die kongeniale Ergänzung von Werner und Tutter, die beide weit über drei, ja fast vier Jahrzehnte im Unternehmen blieben, führte zur Steigerung der hauseigenen Entwürfe.
Quelle: Auszug aus Ellen Mey: Im Zeichen des Löwen. 12.25 Hutschenreuther Art Deco Horse Figurine. Trotting thoroughbred dapple grey horse.
12.25 inches, 9,50 inches tall. Exquisite Hutschenreuther Thoroughbred Dapple Grey Horse figurine - handmade and handpainted fired porcelain. Roduced from the highly regarded german porcelain manufa c tur y Hutschenreuther.
Today a part of Rosenthal. First formed in the Victorian / Art Nouveau or Art Deco Period from the famous sculptor. Tremendous Figurine, outstanding details, very lifelike situation. The figurine was produced about. Years ago and is in excellent condition, without any chips, cracks or repairs.
Carl Werner (1895 1980) was a sculptor and one of the most important German porcelain modellers of the 20th century. As from 1922 he worked as a sculptor in the art department of the Hutschenreuthr AG, in 1960 he was appointed head of the department. For the brand Hutschenreuther, acquired by Rosenthal in 2000, he created many wonderful figurines, e.
»Die roten Schuhe«, »Bajadere« and »Schwerttänzer« and also animal sculptures such as »Trabendes Edelpferd« and »Auf der Koppel (Stute mit Fohlen)«. First choice - no chips, no cracks, no repairs - See photos! The item "ART DECO HUTSCHENREUTHER PORZELLAN FIGUR PFERD JAZDA horse porcelain figurine" is in sale since Sunday, March 21, 2021. This item is in the category "Antiquitäten & Kunst\Porzellan & Keramik\Porzellan\Nach Marke & Herkunft\Hutschenreuther\Figuren & Dekoration".
The seller is "wlinne" and is located in Niedersachsen. This item can be shipped worldwide.
Stil & Epoche: 50er- & 60er-Jahre
Marke: Hutschenreuther
Motiv: Trabendes Edelpferd Jazda
Material: Porzellan
Form & Funktion: Figur
Marke & Herkunft: Entwurf Carl Werner um 1950